Patanjali is a brand which has always been in controversy. People have very varied opinions about this brand. But at least I cannot deny the fact that Patanjali products have almost always given me good results.
Since I have a good impression of this brand, I many a times try new products too from patanjali. So one day, I picked up this Kayakalp oil from Patanjali store. And found this a product whose review must be shared with everyone.
So, here is the review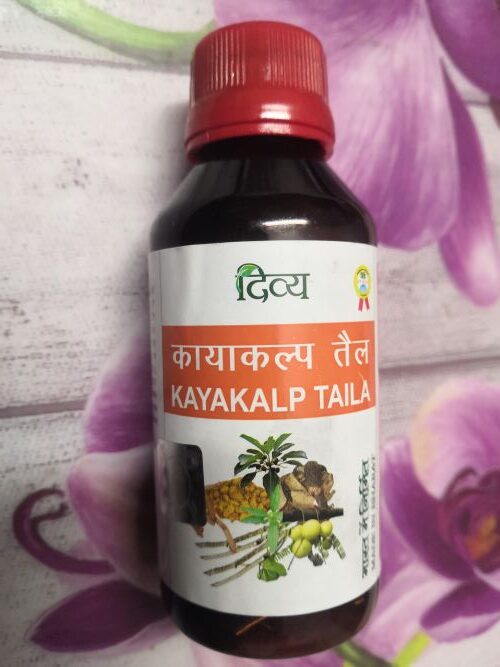 Packaging
Simple usual bottle. Packaging seems very outdated.
Price: Rs. 70 for 100 ml
Very inexpensive, very affordable.
Claims
Just one claim, or I should say one indication, used for skin diseases.
Contains
It's a long list. All are the names of the herbs. No chemical is mentioned on the label.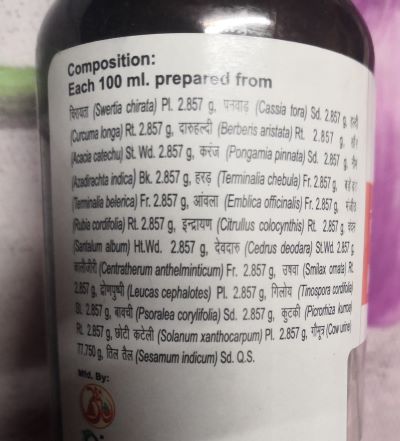 Color
I did not notice. Must be transparent.
Consistency
Viscous
Odor
Horrible, literally horrible. Read below for the complete story
A little background about my skin
Although I have a normal skin, but in winters, my skin used to get extremely dry. So dry, that is started peeling. I scratched, and thus got a patchy skin. Applying cold creams 2-3 times daily too didn't help me. This was the story of every winters, until I found this oil. Read on.
My Experience
On one very cold evening, I was at Patanjali store to buy few things. While exploring other products, I picked up this kayakalp oil just like that. Usually I read the label, ingredients and claims before I buy anything, but that day I guess I was in hurry and so I didn't read anything (I am glad I didn't). After coming to home, I opened up the bottle and applied it. Immediately I realized that it had a horrible smell, extremely horrible. I wondered what it contains to make it smell awful. I started reading the label and it was then when I realized that it contains Cow's Urine. Yes, cow's urine. You can scroll above and read the ingredients' list again.
I regretted why I didn't read the label at the store itself. If I'd read, I wouldn't have bought it.
Anyway, I left the oil on my face as it is. After about an hour, I started feeling nausea due to smell. So I removed it and almost decided that I would throw it away.
Next day, my skin felt so much better. It was very much healed and dryness was reduced. I was surprised to see such amazing and such quick result. So I applied it that day too. Smell was obviously bothering, but I was tempted with the results, so I went ahead. Again, I could see the effect.
Then I applied it on 3rd and 4th day too. I started getting acquainted with the smell. It was still bad, but wasn't bothering me much now. And my skin was improving.
I applied it for 15 days regularly, once a day, for 30-60 minutes. And after 15 days, my skin was not at all dry. Then I stopped using it. I didn't use it for 10 days straight, and my skin was still perfect, no dryness at all. After 10 days I used it again for few more days.
And that was the first and the last time I used it. Now it has been 2 or 3 years since then, and trust me, my skin has never got that dry. It gets dry in winters, but it is manageable with usual cold creams. So the problem of extremely dry skin has been solved permanently.
This year, I applied it on my daughter's cheeks as they were getting very dry, and same magical effect was again observed.
Another thing that I observed is that it speeds up the healing of acne too (I think). Whenever I get a pimple, I apply this oil as a spot treatment, and I feel it helps.
Pros
Magical effect against dryness. Too good.
Helps in healing of acne too
Very affordable
Cons
Horrible smell
Final Verdict
JUST GO FOR IT. You will get acquainted with the smell in a few days. Apply before taking shower, and the smell will be gone. MUST TRY.
Rating*: 4.5*/5
Performance wise, Patanjali kayakalp oil is 5 on 5. I am deducting 0.5 for the smell.
Will I buy it again: Yes, always.
Do I Recommend: Yes, definitely. I cannot recommend anything more than this.
If you found this article useful, please follow on Facebook to stay connected and get notified of future uploads.
Please connect on Instagram to have daily updates and quick tips
Also Read
Aveeno Moisturizing Lotion: My Experience and Review
WOW Argan Oil Conditioner: Review
Nivea Creme Care Body Wash: Review
Mamaearth Bye Bye Blemishes Cream: Honest Review
Lotus Organics Serum+Cream: Review and Results
WOW Onion Black seed Hair Oil: Experience and Review
Biotique Honey Cream Body Wash: Review
Stay tuned for more honest and detailed and analytical reviews…