For how long have you been looking for 'HONEST' review of Mamaearth products?
I am sure you too must be irritated with reading 'mamaearth' 'mamaearth' everywhere; and now you heard that mamaearth does paid promotions. So? Does it mean that the products are not good? Since reviews are not trustworthy, should we try them out or not? Mamaearth products are not too inexpensive to do experiments with. So should we really spend our money on them? I too was sailing in the same boat and finally I decided to try mamaearth and let you know if it is effective or not, because that's my job; to try controversial products and give you a very honest feed back.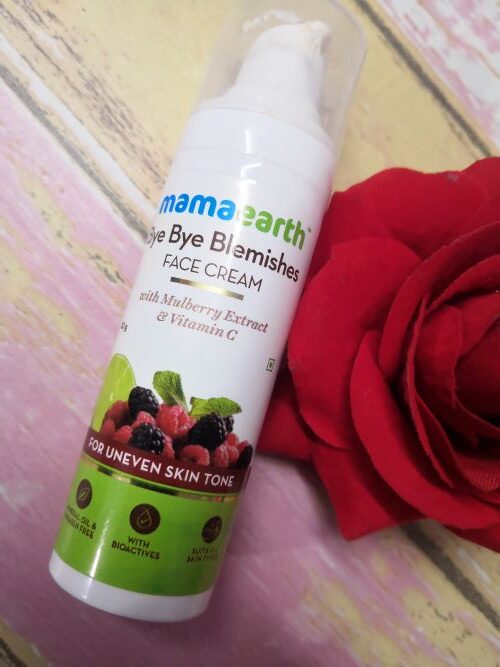 So, your wait is over and here is the review of one product of Mamaearth: Bye Bye Blemishes Face Cream…. Hell honest as always.
Packaging
It comes in cylindrical plastic bottle with a pump nozzle to dispense. The color is white and light green and thus looks very cool to eyes.
It says that it is plastic positive, i.e. they recycle more plastic than they use.
Price: Rs. 499 for 30 ml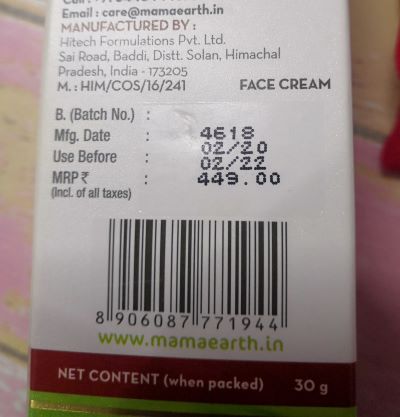 500 rs for a cream feels a bit high, but depends on the results too. If results are good, and if it is really the best cream for pigmentation, it is actually a good deal. Let's see.
Claims: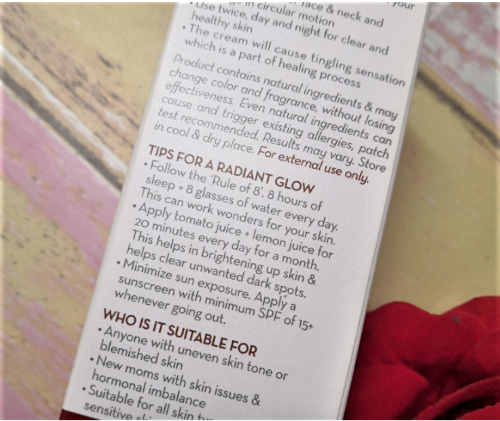 For uneven skin tone and blemished skin,
Mineral oil and paraben free,
With bioactives,
Suits all skin types and sensitive skin,
For new moms with skin issues and hormonal imbalance,
I really liked the fact that they have made no big or unrealistic claims. It is not claimed to be 'preservative free', (it is not possible), 'chemicals free' or '100% natural' etc. No big words like 'brightest', 'luminous' etc. are used.
Contains: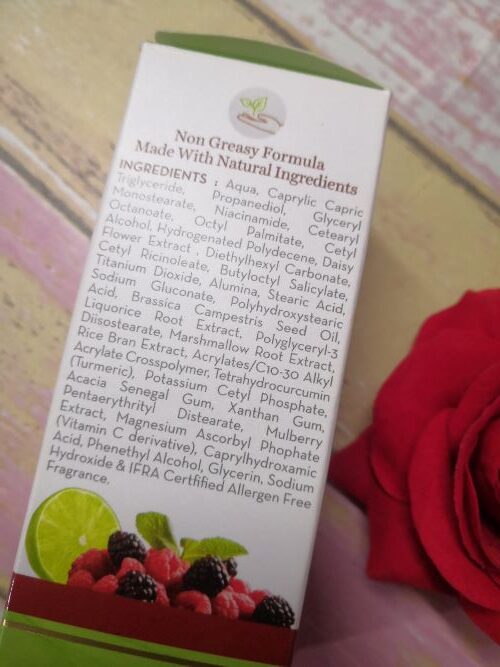 The list is very long, as you can see in the picture. I am not enlisting all here, just a few important ones:
Mulberry extract
Vitamin C derivative
Niacinamide (Vitamin B5)
Liquorice extract (Mulethi)
Curcumin derivative (Turmeric)
Daisy Flower extract
Brassica Campestris seed oil (Field Mustard),
Marshmallow root extract,
Rice bran extract,
The ingredients look promising.
Color
Creamy
Consistency
Thin cream like
Odor
It has a medicine like smell. The list of ingredients mention 'fragrance', but there is no fragrance. In fact the smell is a little unpleasant.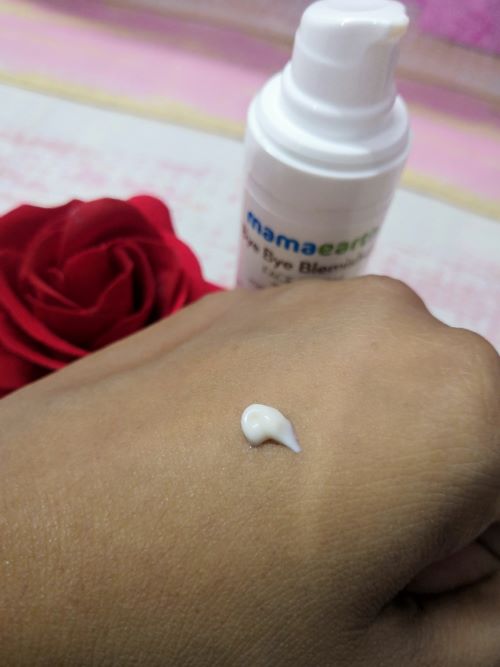 My Views
As I have mentioned above, just like you, I too had a lot of apprehensions about Mamaearth. But I really wanted to try the products myself to know if they are actually good or not. Finally I ordered.
The ingredients mentioned in the label seem promising. As per the labeling, I could not find any flaw or loop hole in the claims. I in fact liked the claims, minimal and realistic.
Moving forward, I tried.
My Experience
The bottle has pump dispenser, and I took out one full pump. The first thing I noticed was its medicine like smell.
The quantity (one full pump) turned out to be more than sufficient. After applying, it took a little massage to let the product sink in completely.
Once absorbed, the skin was moisturized (but not oily or greasy). But but but…. After a few seconds the face started sweating, just the way it sweats after applying a sunscreen.
Face sweated for a while, but became normal after a while.
EFFECTS
Now let's talk about results. The results have been very good. I used to apply it only once a day (recommended is twice), still I had a visible improvement in 15 days. The face felt cleaner and clearer, as if a thin layer of pigmentation has been washed off.
There are few more effects that I want to share. Since I have returned from USA (January, 2020), I have been getting pimples on my face. Not too many, but continuously, and I am still not able to find out the reason. Now, after I started applying this cream, the appearance of new pimples decreased by 90%. Now I get a new pimple only once in a while (still not 100% cured). Although, I am not sure if it is just a coincidence or this cream has done it.
And for the marks, the pimples were obviously leaving stubborn marks which were fading away very slowly. But this cream faded them rapidly. Although, the effect was more prominent initially, and then decreased. I mean to say that suppose if my marks were 100% dark, they were lightened to 30-40% in initial 15-20 days, but then in next 20 days, they decreased from 30-40% to 20-30%. But still, I am happy. Improvement of 60-70% was more than expected.
The pack mentions that this cream will cause a little tingling sensation on skin which is normal. But I never felt any tingling or irritation. May be someone with very sensitive skin would feel, but I did not, neither my sister.
Since it sweats, I won't suggest you to apply this beneath make up or even before going out.
I have applied this only once a day, and still results have been so good. If you are staying at home, you can use it twice a day as recommended.
Pros
Visible improvement in skin
More even toned skin
Does not make skin greasy or oily
Lightened the acne spots
Reduced appearance of new pimples
Cons
Medicine like smell
Causes sweating
Does it fulfil its Claims: Yes, it does.
Final Verdict
For a change, this product actually made a visible difference in the skin. It even toned the skin, faded away acne scars, and reduced appearance of new pimples.
Rating*: 4.8/5
Will I buy it again: Yes
Do I Recommend: Yes, definitely.
A must try. I have never recommended any product this strongly, but I recommend this. Do try it once, and thank me later for helping you with your confusion about mamaearth (I am not claiming anything about any other product of mamaearth. I am yet to try more).
Important
I know you have been hearing that mamaearth does paid reviews, and so it is very obvious for you to think that this too might be a paid review, but trust me, it is not at all paid, not even barter. I have bought the product from my own money and I am telling you every bit of truth. Just because it does paid promotions, I cannot say that the product is not good when it has actually visibly improved my skin.
One thing I can promise, you will always find honest and only honest reviews on my page and website (irrespective of the fact that I am paid or not). I will never cheat my followers.
You can buy it from the official website mamaearth.in
If you wish to buy from amazon, you can buy it from the following link.
If you found this article useful, please follow the Facebook page to stay connected and be notified of more useful articles in future.
Please connect on Instagram for daily updates and quick tips.
Please let me know in the comment section which product you want me to review next.
Stay tuned for more…
Also Read:
WOW Onion Black seed Hair Oil: Experience and Review
Lakme Absolute Mousse (Foundation) Review
Pond's Vitamin Micellar Water: Review