Winters are here again, and we are here dealing with dry skin and dry lips.
Few weeks ago, I received 3 products from Deyga organics (www.deyga.in), my favorite of which was Lip Balm (because I badly needed one).
Deyga organics is a brand which manufactures several skin care and hair products. It claims that the products are natural and handcrafted. When I had a closer look into their social media page, their products really fascinated me because of the promising ingredients.
I quickly opened up the lip balm and started using it. And after using it for around a month, I am here to review the same. Let's see how it turned out to be: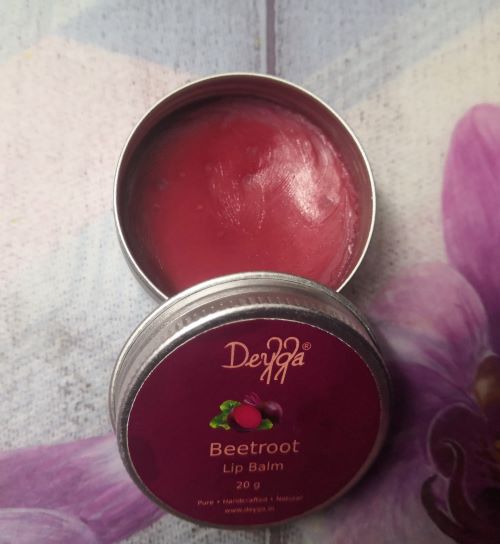 Packaging
A simple silver colored 'dibiya' (small jar) with rings closure. Minimal information is given on the pack (as there is not much space). I like the fact that there is no outer carton; I dislike unnecessary packaging because I feel it is wastage of paper (or any material).
Price: Rs. 290 for 20 gram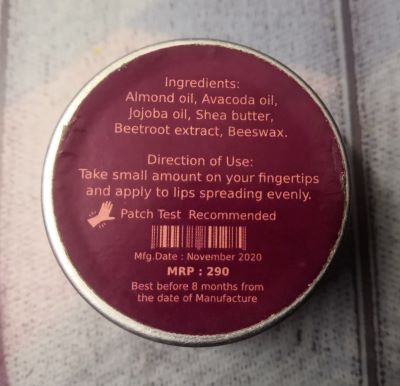 Expiry: 8 months
Claims
That's it. No unrealistic claims. Another thumbs up.
Contains
Shea Butter,
Beeswax,
Almond Oil,
Avacoda Oil (I think it should be 'avocado' oil; there's a spelling mistake),
Jojoba Oil,
Beetroot extract
Color: Brownish Red
Consistency
Very very thick, in fact hard initially; as I am getting deeper into the jar, it is softer, but still, very thick.
Odor
It has smell of wax. Absolutely no added odors. The smell is definitely not pleasant, but it is not bothering too. And I get the smell only when I hold the jar near to my nose and smell intentionally. I don't get any smell when I apply it to my lips.
My Views
At first, I felt it is expensive. But then I looked at the quantity. I calculated the price per gram (Rs. 14.5/gram) and found that it is either equal or less expensive than most of the common and leading lip balms. So, thumbs up for the price.
The shelf life is very less, just 8 months. It is less, but it also indicates that it has less preservatives, which is a good point.
I also liked the ingredients. Only few ingredients, nothing fancy or over board. The base is shea butter and beeswax. Other than that, three oils and beetroot extract. Sounds good. I also liked the fact that it does not contain petroleum jelly.
My Experience
When I used it for the first time, the product looked hard. I had to rub my finger really hard, and then too I got very little product on my finger. Whatever I got, I applied on lips. But the quantity seemed sufficient. I was able to spread it easily, and the dryness was reduced after few minutes. So that means, very less quantity is needed. That makes it more economical because one bottle will last you long. I think one pack will last you entire winter season (depends on your usage though).
When I started using it, I had very dry lips with a lot of dead skin, because I had run out of my usual lip balm and I was too lazy to go to the market and buy it. I had to go and buy, but then I received this. So, my lips were in a bad state. My lips were brought to normal within 3-4 days of usage. So, I can say it has good healing and moisturizing properties.
Coming to the point of lightening: as I said my lips were very dry and chapped at that time, they were also darkened because of the peeling. Deyga lip balm has removed that extra pigmentation, but I don't think it has lightened my lips any further.
Now coming to color/tint: It says it has beetroot extract, and it has a dark color too, so I expected a good and dark color on my lips, but on the contrary, it does not give any color to my lips. This was a turn off for me L. But, I have dark lips, so may be it has very less tint which is not visible on my lips; probably slight tint will be visible on light colored lips (it gave a very light tint on my wrist, so may be).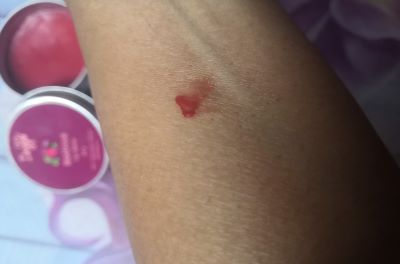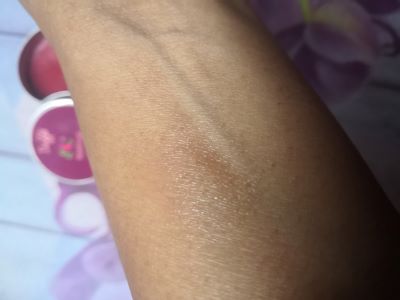 Pros
Moisturizes the lips really well
Very less quantity is needed
Very Economical
Heals Chapped lips
No added fragrances
Does not contain petroleum jelly
Cons
Nothing really. I just wish it could give a little color to my lips; but that's my personal choice.
Does it fulfil its Claims:
On the packaging, it says Pure, Handcrafted, Natural. I can't guarantee about the ingredients of any product, I can only share my experience; but this product feels like handcrafted. It has no fragrance, no fancy packaging, no fancy ingredients. Deyga lip balm gives a feel that it is made in a small scale industry with no hi-fi technology.
In the advertisements, it says that deyga lip balm heals the chapped lips, gives a good tint, and reduces pigmentation (if I remember correctly).
Heals the chapped lips: Yes, definitely.
Gives a tint: No, not on my lips at least.
Reduces Pigmentation: It removed extra pigmentation.
Final Verdict
Deyga Beetroot Lip Balm is an amazing one. It works wonderfully, and yet is economic.
Rating*: 4.8/5
(If it could color my lips too, I would have given it a 5 on 5).
Will I buy it again:
Yes, for sure. I will keep coloring lip balms too, but I will keep Deyga for moisturizing and regular use at home.
Do I Recommend: Yes, definitely
If you wish to buy it, you can do so from www.deyga.in
.
If you found this article useful, please follow on Facebook to stay connected and get notified of future uploads.
Please connect on Instagram to have daily updates and quick tips
.
Also Read:
Aveeno Moisturizing Lotion: My Experience and Review
WOW Argan Oil Conditioner: Review
Nivea Creme Care Body Wash: Review
Mamaearth Bye Bye Blemishes Cream: Honest Review
Lotus Organics Serum+Cream: Review and Results
WOW Onion Black seed Hair Oil: Experience and Review
Biotique Honey Cream Body Wash: Review
Stay tuned for more…