When we were young, Johnsons baby soap bar was the only option that our mothers had. But now, the market is flooded with options, making the choice difficult. Increased awareness about the harmful effects of chemicals, preservatives, surfactants etc. has further made us more concerned, and thus we mothers are always on a lookout for the best and safest products for our babies.
After using Johnsons body wash for 3 years for my daughter, I finally decided to experiment with other brands and picked up this Lotus Herbals baby body wash and shampoo.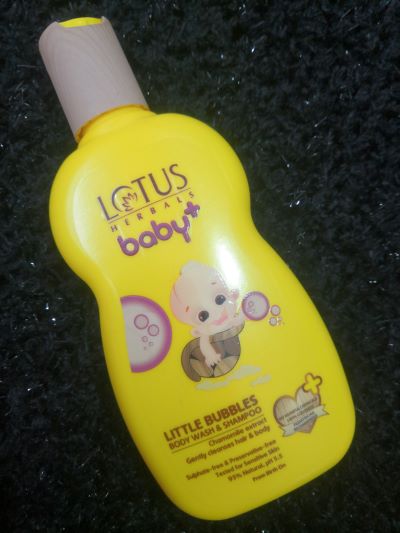 Here is the Review for you…
Packaging:
Packaging is very cute and attractive. You can identify that it is a baby product with just one glance on it.
It comes in a curved plastic bottle of yellow colored body and grey colored cap. The cap has a push opening for controlled dispensing of the product. There is no outer carton packaging, and I really like this thing. I hate unnecessary packaging as it is not environment friendly. Even if it is of paper or cardboard, it consumes trees.
Price: Rs. 230 for 200 ml
Compared to few other popular and goods brands, this body wash is definitely expensive. But it is usually available at discounted price on amazon.
Claims:
Gently cleanses & leaves baby's skin soft and smooth,
Safe for daily use,
As safe as Nature,
No synthetic Color,
No Sulphates/Alcohol
No PEGs/Phthalates
Allergen free Fragrance
No mineral oil/petrolatum
Preservative Free
95% Natural
Tested for sensitivity
Contains:
Purified Water (Himalayan source), Cocamidopropyl Betaine, Glycerine, Capryl glucoside, Sodium methyl cocoyl taurate*, Coco glucoside and Glyceryl Oleate* (naturally derived from coconut oil and sunflower oil), Propanediol* (plant derived), Chamomilla Recutita (Matricaria) flower extract* (plant derived), Disodium EDTA, Enteromorpha Compressa Extract, Silybum Marianum Fruit Extract, Ocimum Sanctum (Tulsi) leaf extract, Citric Acid* (plant derived), Caprylhydroxamic acid, Phenethyl Alcohol, Glycerine, Fragramce.
*Natural
I know all these names are alien to us, but I still mentioned the list to let you all know that most of the ingredients are claimed to be derived from natural sources.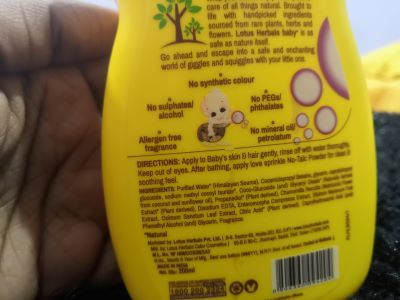 Color: Colorless, Transparent
Consistency: More towards Thinner side
Odor: Very Pleasant
Cleansing ability: Cleansing ability of Lotus Herbals baby body wash and shampoo is just Average; and this makes it suitable for daily use, because strong cleansing means strong surfactants which is definitely not good for daily use, especially for babies.
My Views
Lotus brand already had a good impression on me, and thus though expensive, I had to give it a try. With all the claims, it looked promising.
To make my points more understandable, I just want to briefly mention a few points. Surfactants are the chemicals which are responsible for the cleansing ability of a product. Surfactants also cause foaming, although foaming agents can separately be added too to increase the foam. Sulphates are the most commonly used surfactants (sodium lauryl sulphate (SLS) etc.). Sulphates can be harsh and may cause issues if the skin is sensitive. They also irritate the eyes, thus not suitable for kids.
In this product, Cocamidopropyl Betaine, Capryl glucoside, and Sodium methyl cocoyl taurate are used as surfactants. They are milder and do not irritate eyes.
Since sulphates are the most commonly used surfactants, few products use these two terms as synonyms and mislead the consumers. They write 'surfacatnt free', which cannot be true. It is not possible that a product meant for cleaning does not contain surfactant. If not sulphate, it must contain some other surfactant.
I like the fact that this product does not say 'no surfactant'; it says 'No sulphates', which is true (as per the list of ingredients).
Coming to preservatives, it is not possible for a packaged product to be preservative free. This product contains Caprylhydroxamic acid which is a natural preservative. So 'No preservatives' is not true. 'No artificial preservatives' would have been better.
This product also contains Phenethyl Alcohol, while the bottle says 'No Alcohol'. Phenethyl Alcohol also acts as preservative, and it is debated for its safety. As per the reports, this ingredient is not very safe for skin. I just hope that the quantity added is very less.
My Experience
I first used it as a shampoo. The product produced less foam, but since she is just a kid, I did not bother much and rinsed it off without working much upon it. But to my surprise, my DD's hair were much shinier and softer after the first use itself. That's when I started admiring the product. With repeated wash, I was falling in love with her hair and so I decided to use it on my hair too.
I tried it on my hair and realized that it was not a very good idea. This product did not make a lot of foam, and to clean our hair, we obviously need something foamy. So, in attempt to clean my hair, I ended up using a lot of product. My hair were definitely much softer and frizz free, but using this for my hair is not a pocket friendly idea. Nonetheless, this experiment gave me more confidence that it does not contain very harsh surfactants and I was happy with it.
Just like me, my daughter also suffers from dandruff, and Lotus Herbals baby body wash and shampoo reduced her dandruff by 60-70%.
As a body wash too, it performed well. It cleanses fine, and does not leave the skin dry.
Few products leave a slippery and soapy feeling on the skin, and need a lot of water to get rinsed off. Thankfully, this product is not like that.
Pros
Does not contain harsh surfactants
Easy to rinse off
Pleasant Fragrance
Cons
Does it fulfil its Claims:
Except for 'No preservative' and 'No alcohol' claims, I feel it does justice to most of its Claims.
Final Verdict
Lotus Herbals baby body wash and shampoo is definitely a worth try.
Rating*: 4.5/5
Will I buy it again: Yes.
Do I Recommend: Yes.
You can buy this product by clicking below:
If you found this article useful, please follow the Facebook Page to stay connected and be notified of more useful articles in future. Very analytical and honest reviews of popular products are coming up soon. Follow the page so that you don't miss.
Please connect on Instagram for daily updates and quick tips.
If you need meal plans for babies, Click here for 6-8 months old; Click here for 8-10 months old, and Click here for 10-12 months here.
Click here for the Recipes for 6-12 months old babies
Also Read:
List of Foods that can be safely given to 6-8 months old babies
Foods that should not be given to 6 months old babies
Is Home-made Cerelac actually good?
How I treated post-pregnancy Hair Fall
Stay tuned for more…