I love twinning with my daughter, and I love to stitch dresses for her on my own. While it is not possible to make dresses for her regularly, I do so once in a while, and especially when I have scope of some creativity and utilizing some scraps of fabric.
So here, I made a kurti for my daughter out of my own kurti, without spoiling mine. As you can see in the thumbnail, mine is still as good as new.
I am sharing my idea with you. Even if you don't do sewing yourself, you can read this just for the idea, and your tailor can do that for you.
Let's Start
I had bought this beautiful suit set from an Instagram store. (Image sent by the seller)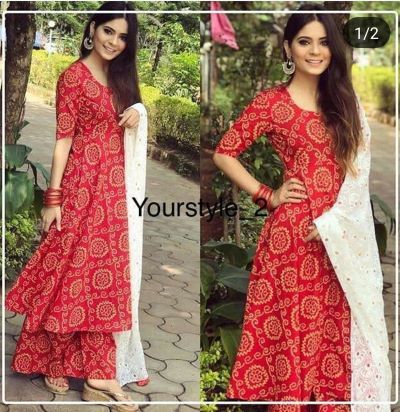 I received the product exactly same, equally beautiful, equally good quality, and I took the advantage of my short/average height to create same kurti/tunic for my daughter.
As you can see in the picture of the model, the palazzo is visible and it is looking beautiful. But due to my not so good height (5'3"), palazzo was not visible at all. I wanted it to be visible as much as it is in the picture.
So I had to cut my kurti from the bottom. Since the flare of the kurti was very large, I got a long strip of the fabric.
How I made my Daughter's Kurti from that Strip
I cut the fabric in smaller strips.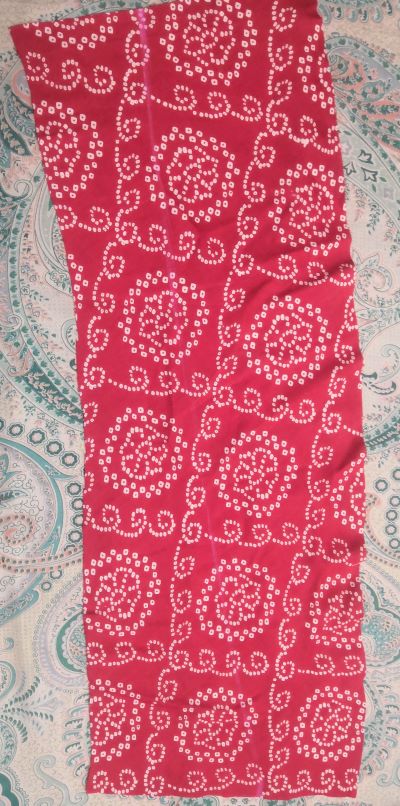 I then arranged and stitched them as required. I forgot to click all the pictures; I have tried to depict through these edited pictures.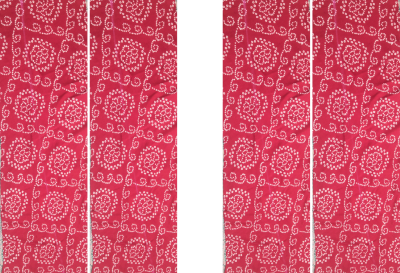 Yes, the strips were not straight and had a little arc, but that's fine. Fitting of kids' clothes need not be perfect, and I made it very loose, so the arc became less visible.
Then, I finally stitched the Kurti for my daughter. This is the final result: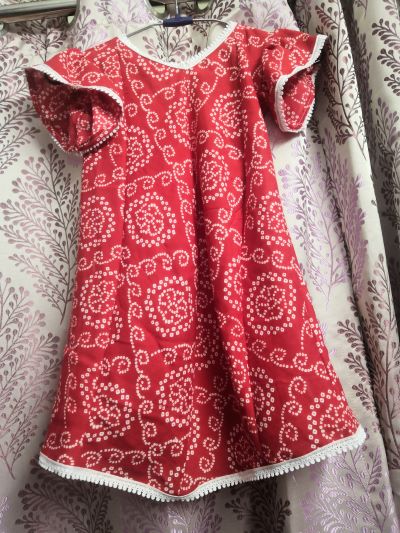 I had this white lace, so I used it on the hems.
I believe that we should invest minimum time and efforts in DIYs, only then DIYs become worth doing. So to lessen the efforts, I opted for this type of sleeves, loose, bell like. As I said, fitting is not very important in kids' clothes.
I paired up her white leggings with this kurti. To complete the look, I took my white net duppatta, gave it folds to adjust the size, and pinned it up…
I chose net duppatta because it is very light and even after folding it up, it does not look big or heavy.
And… Tan tanaaa…..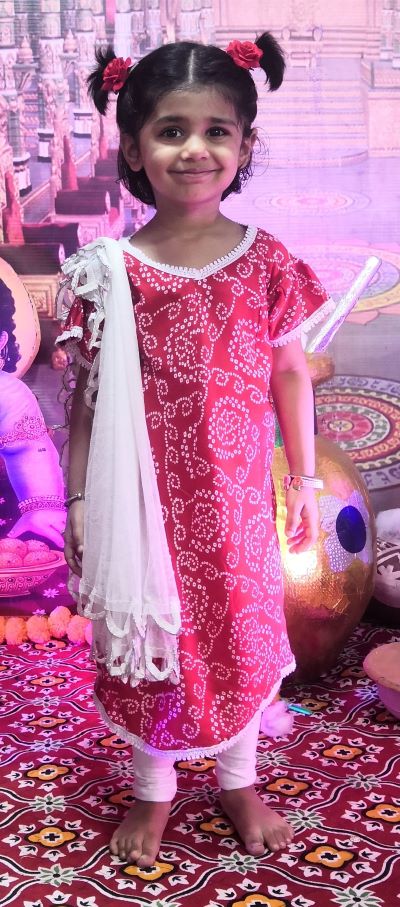 I have made it asymmetrical from the bottom, high-low pattern type. I think it turned out to be fairly nice… What do you think?
Few more ideas for Customization:
(Following images are taken from firstcry.com, only for refernce purpose)
If you have less fabric, you can use the fabric in front only, and use some plain matching cloth for the backside. For example, if I did not have enough fabric, I would have used plain red cloth for the back side of my daughter's kurti.
If the fabric is still not enough, you can put only a panel in front, or only on upper half (choli part). It still will give a twinning look.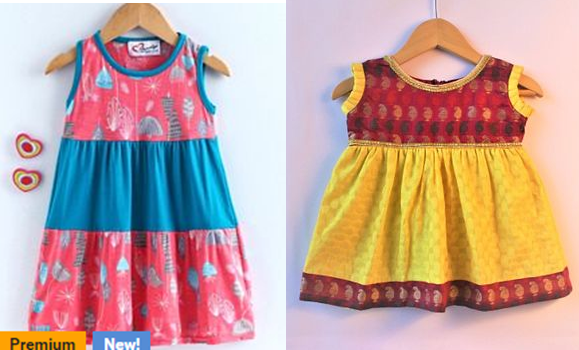 If you want to do twinning with your son, you can create some ethnic wear for your boy, like a jacket/waist coat, or a kurta.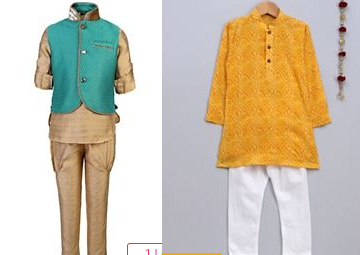 If you find this article interesting, and wish to get notified when I upload more useful articles in future (on parenting, nutrition, health, recipes, immunity, tips, etc.), you can Follow the Facebook Page.
Please Connect on Instagram for daily updates and quick tips.
Also Read:
How to Teach Alphabets, Numbers, and Writing to kids
How to Teach Colors, Shapes and other Basic Concepts to Kids